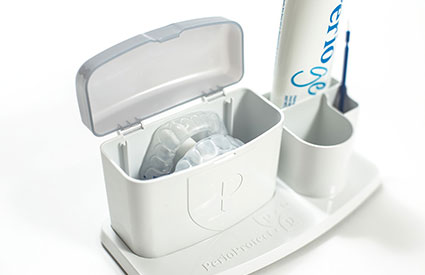 While millions of Americans struggle with an array of gum diseases including gingivitis and periodontitis, there has never been a long-term way to deal with these chronic mouth conditions. For years, the common treatment for these diseases included the cleaning of root surfaces (also referred to as root planning or scaling) in conjunction with the use of antibiotics. This treatment method is often uncomfortable and additional cleanings have to be repeated every 3 months. If this treatment method doesn't work, surgery is often a last resort for advanced gum disease. Thankfully, there now is a non-surgical option for gum disease and it's called Perio Protect®.
What is Perio Protect®?
Perio Protect® is a non-surgical treatment option for gum disease that can help to supplement and improve other treatments. Perio Protect® may not be a replacement for surgery but is used to minimize surgery whenever possible. It's main benefit is to provide minimally invasive, long-term oral bacteria management.
Perio Protect® uses the Perio Tray®, which is a patented tray that allows dental patients to apply medication comfortably between office visits. This tray creates a seal which helps to ensure the medication makes its way deep into your gums. This ongoing treatment can be done in just 10-15 minutes per day and in certain cases can help to avoid repetitive scaling procedures and surgery. The Perio Protect® procedure is always supervised by a Perio Protect® dental provider.
Gum Disease is a Serious Problem in the US
Recent studies show that 47% of Americans have chronic periodontal disease. Perio Protect® was designed to supplement and improve the treatments that are necessary for roughly half of the American population. You may be suffering from gum disease and not even know it. A few of the symptoms that can be attributed to this disease include persistent bad breath, bleeding gums when flossing or brushing, sensitive or loose teeth, spaces developing between your teeth, or receding, swollen, red or tender gums. If you're experiencing any of these symptoms, it's best to see a licensed dental professional as soon as possible.
While surgical options may need to be discussed for those suffering from advanced gum disease, Perio Protect® offers an additional treatment option for those looking to fight this terrible disease. For more information on the Perio Protect® treatment plan, feel free to give our team a call toll free at 877-434-GUMS or reach out to us through our online contact form. We look forward to showing you how Perio Protect® can offer a comfortable, minimally invasive option that promotes healthy gums.